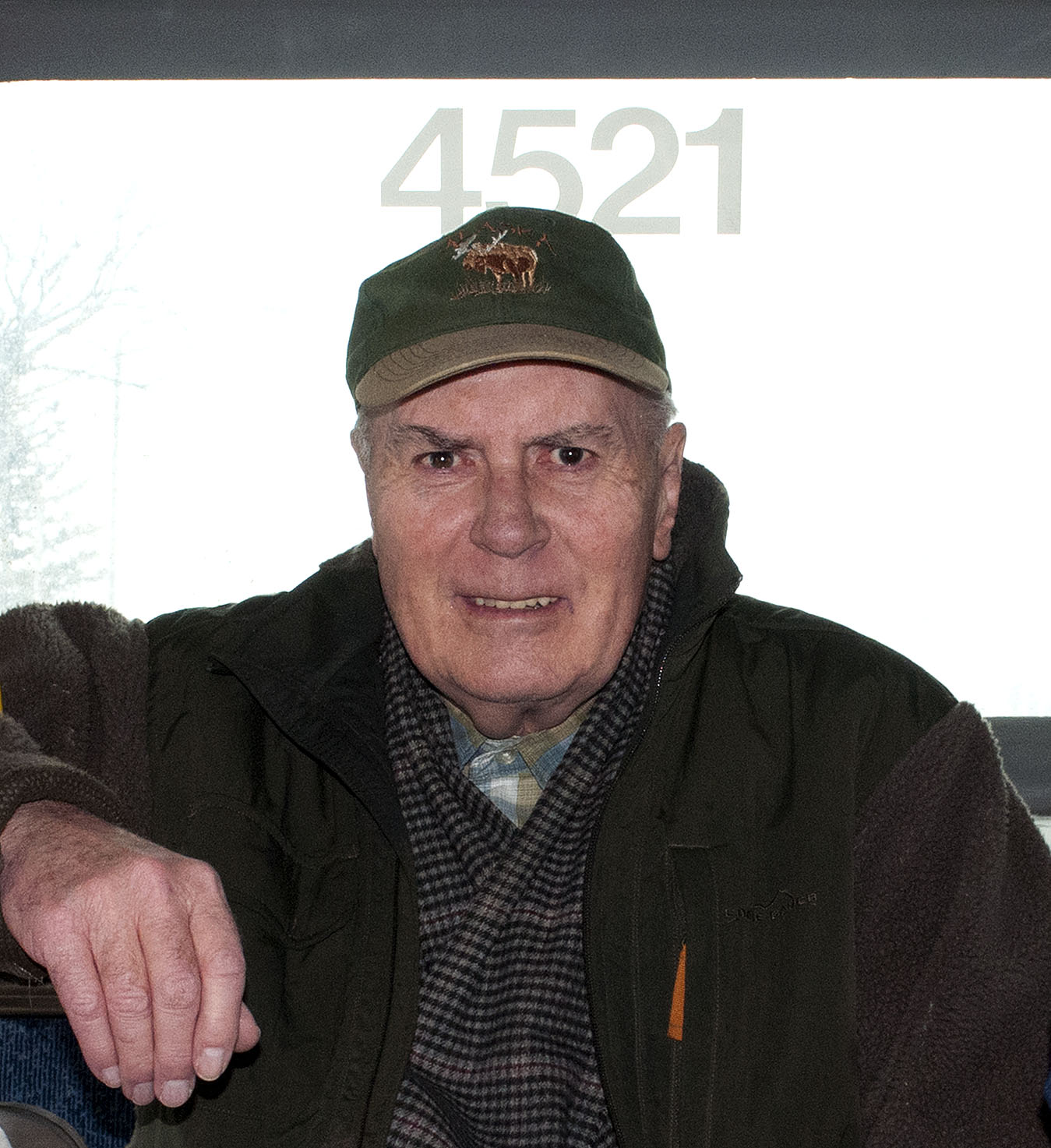 It is with incredibly deep regret that the Bytown Railway Society announces the passing of Earl W. Roberts, Co-Editor of the Society's flagship publication Canadian Trackside Guide.
A long-standing employee with Bell Canada, Earl moved to Ottawa from Montreal in the mid-70s, and soon became an active member of the Society. Always interested in motive power, Earl suggested in 1981 that the Society publish an annual motive power review book, loose leaf, then publish updated pages each year. While there was some initial scepticism, the success of the first edition and the number of changes in motive power, resulted in the third year's edition being expanded to include rapid transit and VIA passenger equipment, and perfect bound! Each year the Guide continued to grow, and with the assistance of Dave Stremes it is now almost 800 pages and includes just about every piece of active and preserved motive power, passenger and OCS rolling stock in Canada in addition to details on signals, urban track layouts and freight and passenger timetables. For many years, the Roberts' house was 'distribution central' for the 'Trackside Guide', where Earl carefully packed many of the orders and delivered them to Canada Post for delivery to the anxious readers.
Earl was also the Managing Editor of the Society's "Branchline" magazine from March 1985 until September/October 2015, transforming it from a stapled set of paper reproduced on a Gestetner machine to its current saddle-stitched, glossy paper colour format. He was a contributor to each and every issue writing the "Consists" and "Motive Power" columns even after stepping away as Editor in favour of today's Malcolm Vant. For many years, Earl was a member of the Society's Executive, occupying a number of positions including President, and was honoured with a Life Membership.
Earl had an encyclopedic knowledge of railway motive power and the uncanny ability to recall engine and train numbers even years after an event had taken place. This ability also extended to his normal commute home, be it in Montreal on CN's Deux-Montagnes line or, later, the buses of Ottawa's OC Transpo – Earl could always tell you the number of the engine or bus as well as the car he was riding in. Through Branchline and the Guide Earl kept readers informed of every bit of information of Canada's motive power and rolling stock, and in many cases their re-birth after various levels of re-building.
In 2004, Earl was awarded the Lifetime Achievement Award by the Canadian Railroad Historical Association, 'for significant contribution over a period of years'. The CRHA had previously recognized the Canadian Trackside Guide 1989 with their "Book Award". He was also an active model railroader and received the prestigious Herb MacEwen Award offered on annual basis by the Ottawa Valley Associated Railroaders.
Over the years Earl was involved in restoration and operations. He worked on the restoration of former Thurso and Nation Valley business car #27 at Thurso following its donation to the Society. Earl was also a member of the steam crew for the years that Bytown ran ex-CPR 1201 to Wakefield in conjunction with the National Capital Commission and the National Museum of Science and Technology and also Bytown-operated excursions to Eastern Ontario locations of Pembroke, Hawkesbury and Brockville. His proudest moment was when he was made part of the Bytown crew that operated 1201 to Saint John, New Brunswick in June of 1989 to celebrate the centennial of Canadian Pacific service to the Maritimes.
Earl was also involved with his local Anglican church, representing them for years on the Diocesan Synod.
To Barbara his wife and high school sweet heart, and to his children Brian, David and Laurel and his many grandchildren, we offer our deepest condolences.