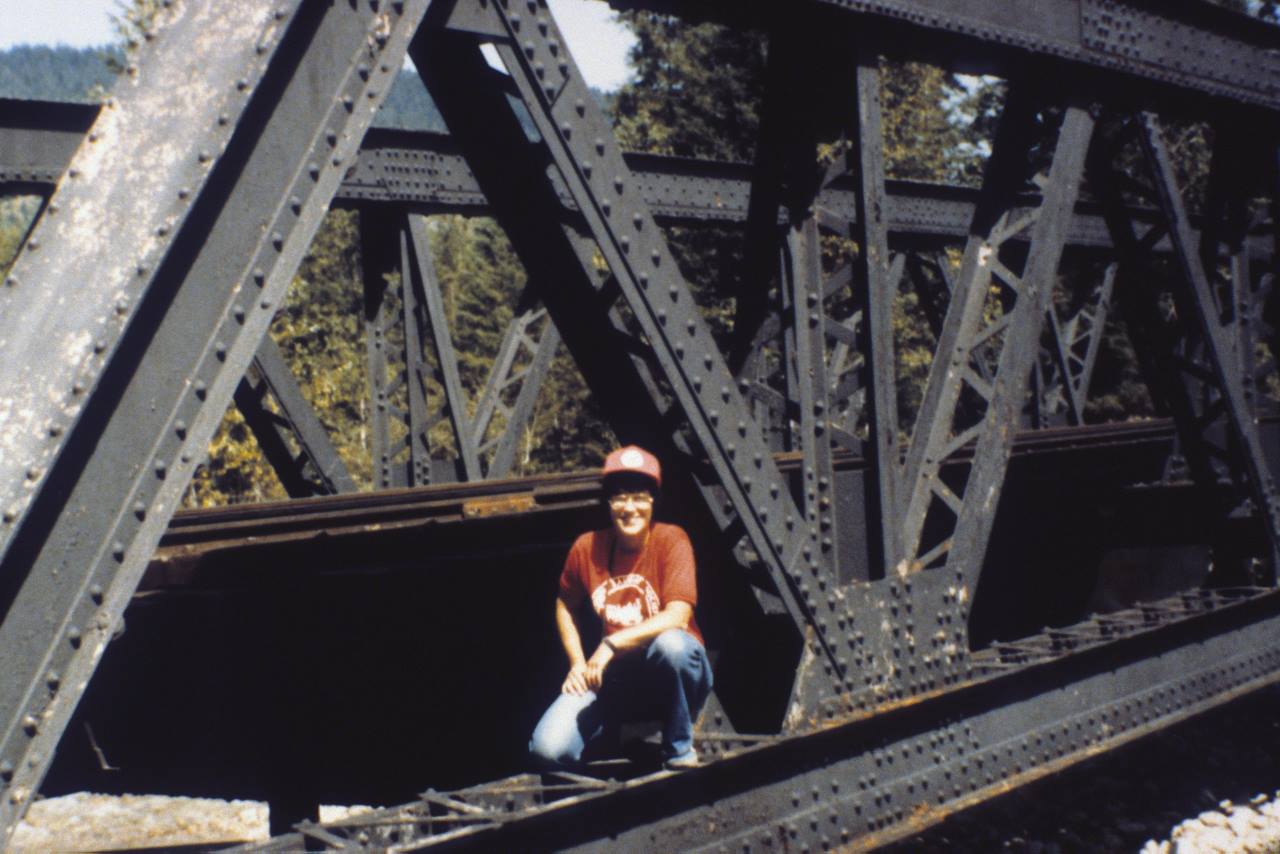 Helen Tucker at Lemon Creek Bridge in BC.
Photo courtesy of Doug Wilson.
Helen was the Dirty Hands Club Founder and also held the Secretary position on the Society's board.
Helen's professional career was as an Engineer with the Vehicle Dynamics Laboratory of the National Research Council of Canada (NRC).
At the NRC, Helen was a co-inventor of a Valve, a Flowmeter and a Viscometer. Below is a listing of the three patents she held with her colleagues.
Helen worked in diverse areas as Maglev systems, control systems for dynamometers, wheelchair stability experiments, and a major wheel and brake testing facility. (reference: Branchline July-August 1987)
Patents held by Helen G. Tucker

| | | |
| --- | --- | --- |
| Number |   | Title/Abstract |
| US3952577 |   | Apparatus for measuring the flow rate and/or viscous characteristics of fluids Helen G. Tucker, John W. Tanney, William F. Hayes. An apparatus for measuring the flow rate and/or viscous characteristics of a fluid comprising a casing having a fluid passage, a fluid inlet cavity and a fluid outlet cavity, fluid pressure detecting means preferably at spaced positions along the passage, and fluid pressure indicating means for indicating the or each characteristic to be measured....   |
| US4003405 |   | Apparatus for regulating the flow rate of a fluid William F. Hayes, John W. Tanney, Helen G. Tucker An apparatus for regulating the flow rate of a fluid, comprising a casing having an annular or cone-shaped fluid passage, for radial flow (inwardly or outwardly) between an inlet and outlet which are spaced radially and form unobstructed flow paths.... |
| US4118973 |   | Apparatus for measuring the flow rate and/or viscosity of a fluid Helen G. Tucker, John W. Tanney, William F. Hayes. An apparatus for measuring the flow rate and/or viscous characteristics of a fluid comprises a casing, having a fluid passage which is elongated in cross-section with two parallel, opposed sides and has a flared entry portion leading to a portion of constant cross-section.... |